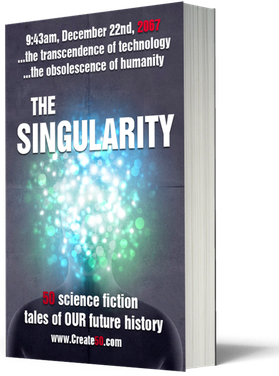 We are delighted to share the news that The Singularity50 has been released, with 50 visionary future tales from 50 of the most audacious voices in Science Fiction.
Exploring the rise of smart technology, leading to the moment when humanity is overtaken by its own creations, The Singularity50 offers both light and dark imaginings of what might happen.
The authors include…Andrew Baguley, Tara Basi, Diann Beck, Richie Brown, Lee Burgess, Dee Chilton, Yvetta Douarin, Jennifer Hawkins, Susannah Heffernan, Tom J Hingley, Michelle Hood, Clive Howard, Maggie Innes, Nick Jackson, David Jacobson, Matt George Lovett, Vera Mark, Ben Marshall, Chris McAleer, Don McVey, Ahren Morris, Sarah Newman, Tom Nolan, KT Parker, Elinor Perry-Smith, Steve Pool, Emma Pullar, Carmen Radtke, Mark Renshaw, Ann Rumsby, Patrick Ryder, Claire Rye, Caroline Slocock, Daniel Staniforth, Christopher Stanley, Dave Stevenson, Jade Syed-Bokhari, Melissa Szydlek, Simon Thomas, Ilesh Topiwala, Phil Town, Nick Twyford, Carrie Wachob, Danielle Wager, Christian Ward, Stephanie Wessell, Kim L. Wheeler, Bethany White, David Wilks, Nick Yates
You can now get your  copy on Amazon in both eBook and Paperback, and globally too.
Chris Jones
www.Singularity50.com